The handwoven bedhead
The traditional art of weaving is represented in PAVO by Ergani who weaved the headboards in a traditional loom (argalios). And yes, they are designed and hand-crafted especially for you.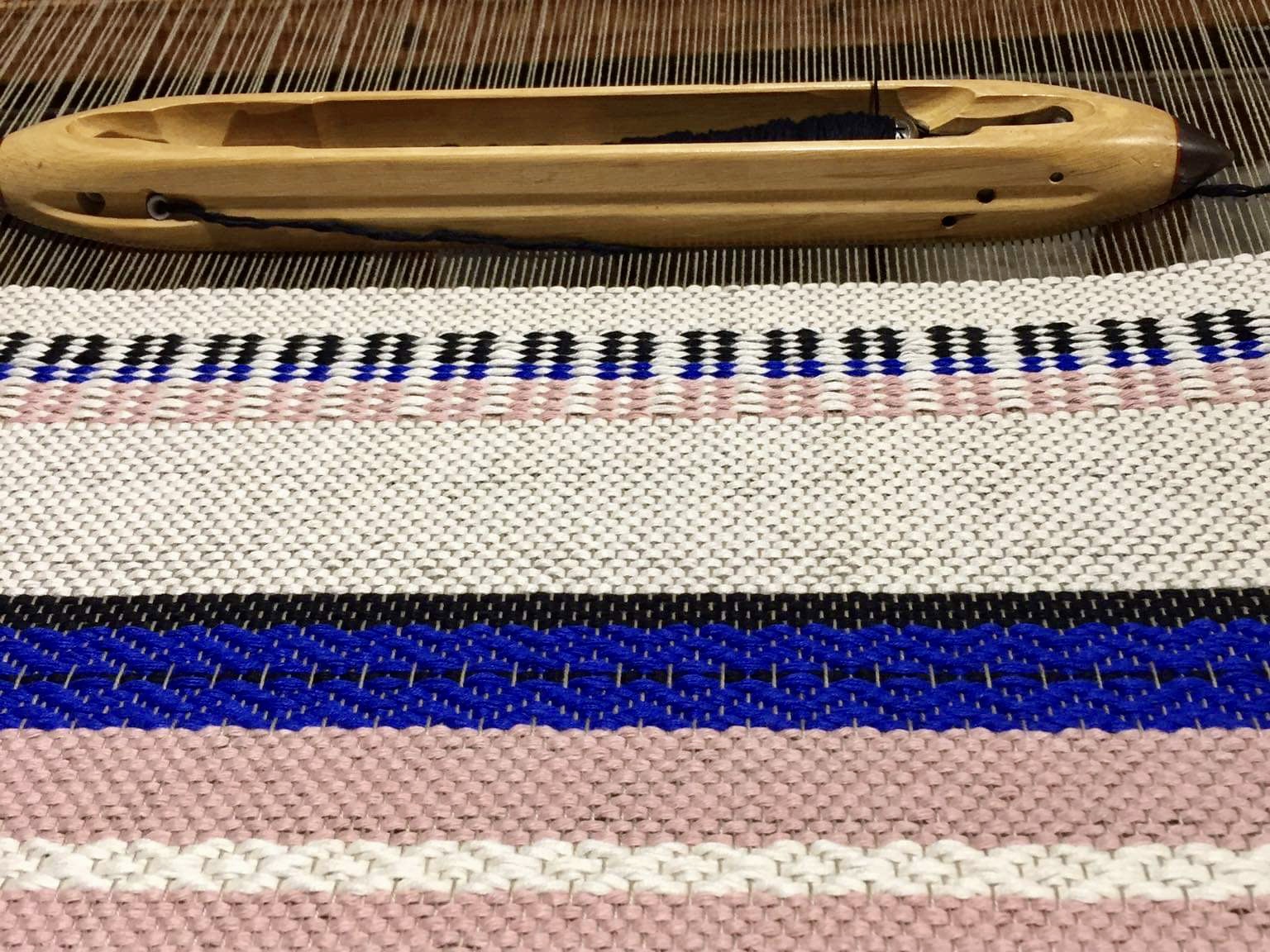 Eleni Pavlou is the founder and owner of the ERGANI, a weaving studio founded in 1998 in Poros, a small island of Greece. She loves to weave traditional Greek designs and mix them with contemporary and natural shapes to make bed covers, afghans, curtains, rugs, tablecloths, and wall hangings among other things.


Eleni what attracted you to weaving?
From a young age I was familiar with the handicrafts and especially those that had to do with yarns and fabrics. What I like about weaving is that it is a rhythmic, repetitive process, so simple but also so inexhaustible that it will always lead you to something new. I also like the feeling that weaving is as old as the human presence on earth and is connected to every aspect of our lives.
Where did you learn your weaving techniques?
During my studies at the Athens University, School of Philosophy, I learned to weave, first on a vertical and then on a horizontal loom, as well as to dye yarns with vegetable dyes. I read extensively and did a thorough research on my own to learn new techniques.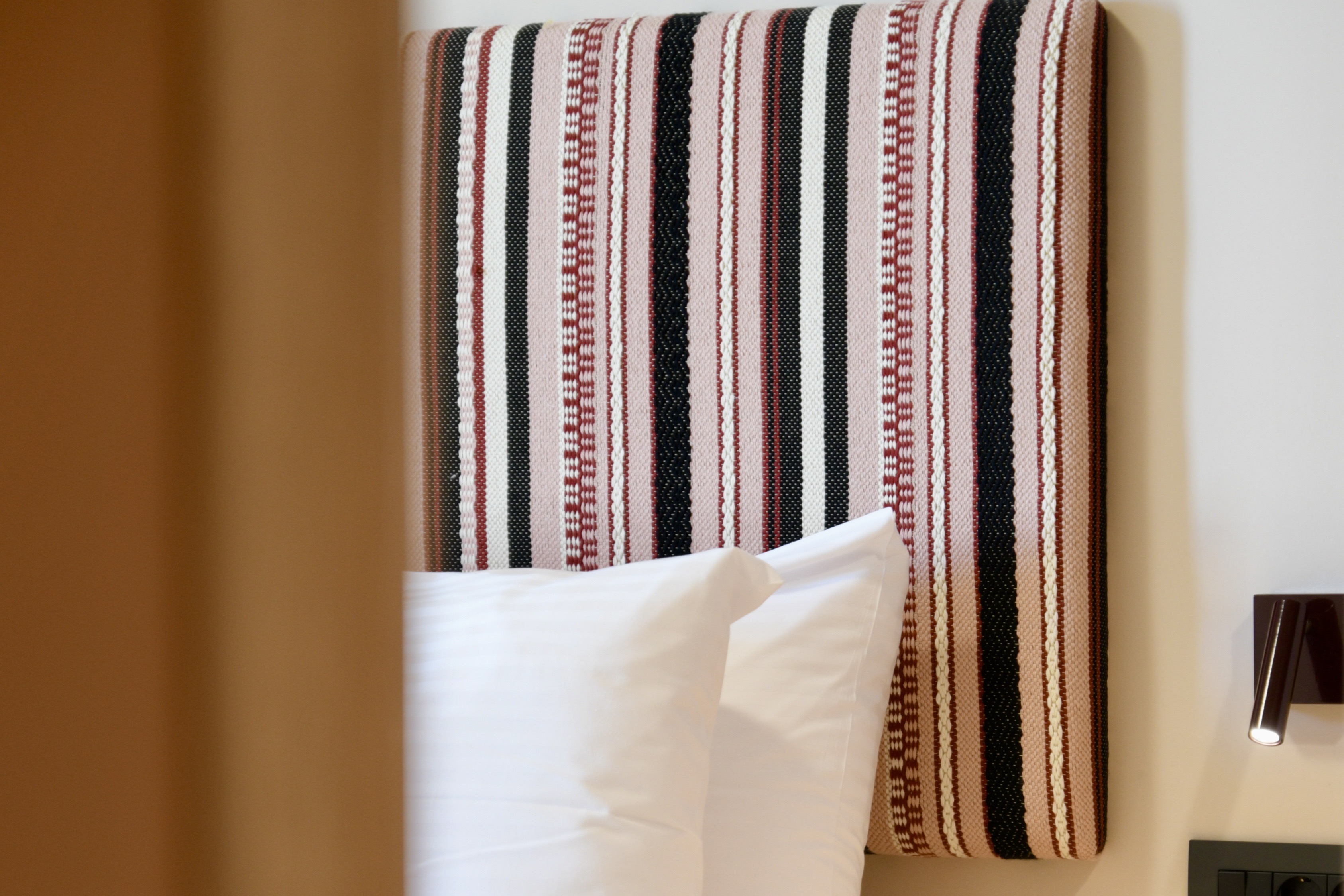 Tell us about your weaving process.
The process of weaving a is related to the product's end use. Every project is different and unique. We select the appropriate materials and techniques, we create the design and, if necessary, we make some samples. Weaving is a time-consuming process since the loom is manual and the fabric is created one row at a time. When the fabric comes out of the loom, the process continues with sewing, embroidering, dyeing or whatever else is necessary for the final product. In terms of creativity, there are two things that I equally like: when I make something to order, because it is always a creative challenge and the sudden inspiration for something new, that opens new creative paths.
The loom has always been a household device and it was necessary in every home, isn't it?
In almost every home there was a wooden loom in the past, on which women wove everything necessary for the household and for their clothing. It was mandatory for some family members to know how to handle it and to work on it for several hours. That is why there is a sense of compulsion about loom-weaving in Greek traditional folk songs. At the same time, it was a useful and beloved tool, which allowed women to show off their craftmanship, talents and abilities. People decorated the loom and its accessories with carvings. Unfortunately, my family never had a loom, nor did they know how to handle it, since Poros (my hometown) was urbanized quite early, and such forms of housework were neglected.
In what ways do you think the work of previous generations is important today?
Keeping in touch with the past shouldn't take the form of a museum visit. Tradition exists to teach us, to inspire us and to open creative paths for us. By observing the art of previous generations, we can transfer values, passion and dedication to everything we do (the Greek word 'meraki') and of course make us appreciate the beauty and usefulness of objects in low-resource settings.
It is quite meaningful when a craft passes from one generation to another and especially when it's not done in a purely academic and theoretical manner, but with close and deep observation, practice and experience. I think that in Greece, this continuity was lost for a while, with the intense post-war urbanization, but now there is again intense interest and vitality.
Have you had the opportunity to introduce your local community to weaving?
In the more than 25 years that I have been involved in weaving, I have had, and still have, many opportunities to transfer this art to both young and old individuals, either through the creative workshops that take place in our studio, or by creating and implementing educational programs and activities in collaboration with schools, associations and other institutes. In any case, there is enthusiastic acceptance of our work.
Can you tell us about your recent work at PAVO apART hotel?
The idea was to weave the headboards for the beds to complement some existing headbeds weaved by the owners' grandmother more than 50-60 years ago. Based on some fabrics that I had woven before and within the capabilities of my loom, we decided on the colors and the design. The weaving process, although time consuming due to the complexity of the design, was enjoyable. I always listen to music or a favorite show when I weave. I find the process extremely relaxing.
What do you think makes a good hotel?
Its aesthetics and the comforts it provides, but mostly the people that can make you feel "like home".